Breakfast Challenge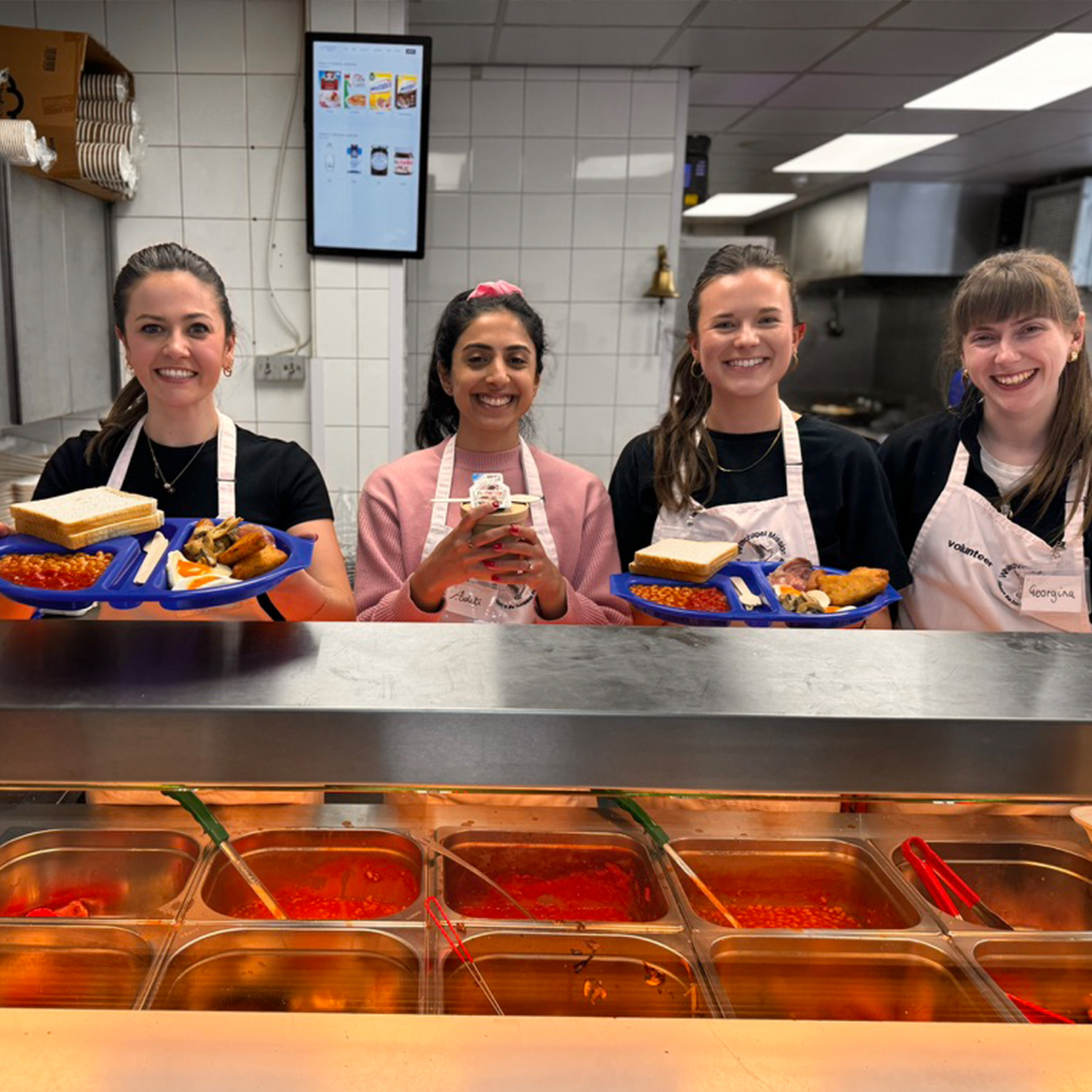 The Breakfast Challenge is currently the most popular form of volunteering at the Whitechapel Mission. After preparing and cooking breakfast for as many as 350 people, these breakfasts need to be served. Served to people who are, in the main, very grateful for your efforts and may have not eaten since yesterdays breakfast. A very rewarding experience and an opportunity to meet people from the streets in a positive and meaningful way.
A breakfast challenge needs to be a team of people of no less than 6 people and no more than 9 people. 7 is a good number and will keep all 7 volunteers working for the 5 hours of the challenge. A team of only 6 will struggle to keep up and a team of 9 will find times when they are looking for another job to do. We cannot accommodate larger groups in the kitchens for both health & safety reasons, and also to ensure the challenge is meaningful and enjoyable. These teams are responsible for ensuring the continued breakfast services of The Whitechapel Mission.
We ask that volunteers are over 18 and able to spend a long time on their feet.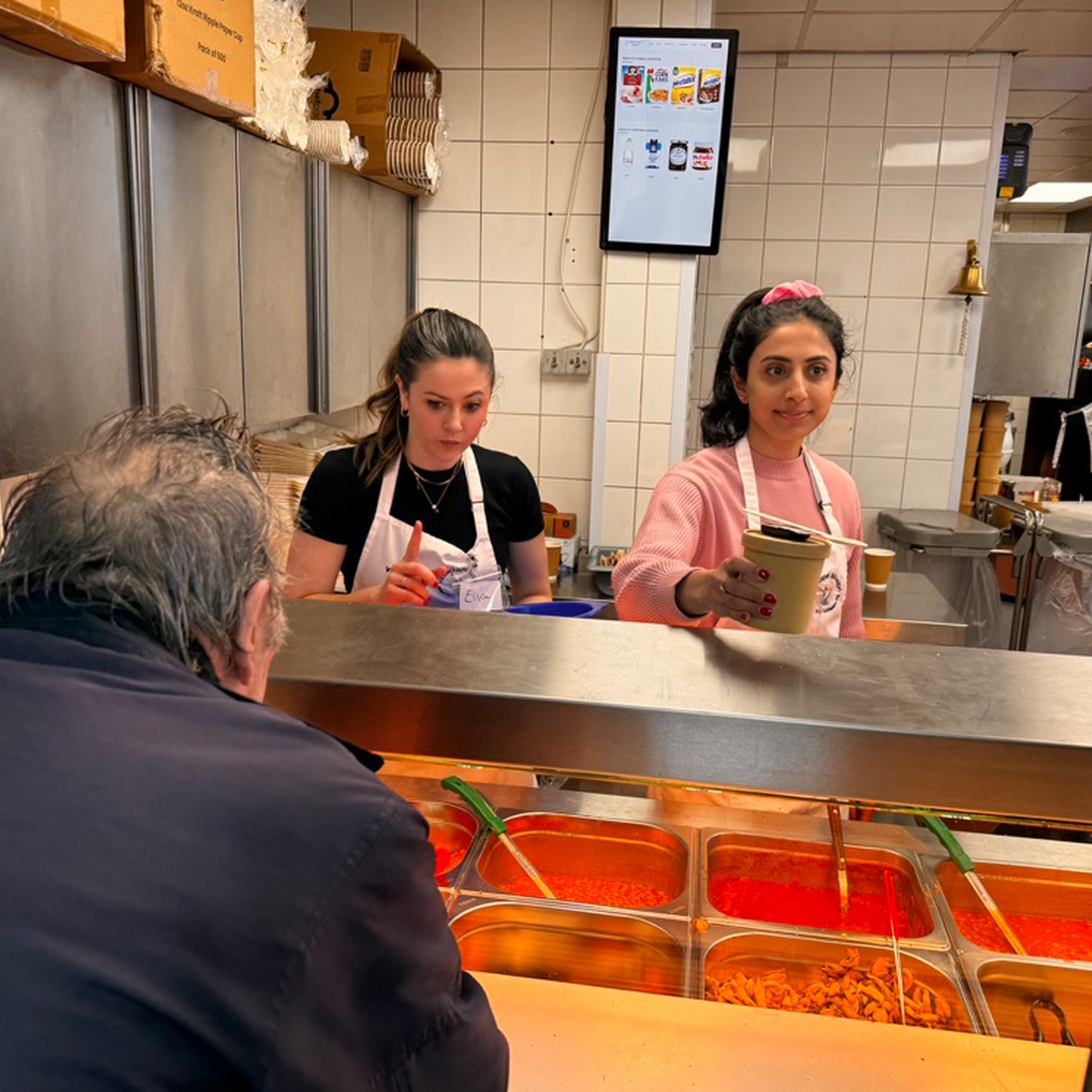 We will ensure that there are always staff to supervise/assist. Our kitchens have been designed to be a safe environment to work and have a positive introduction to London's homeless. The open daycentre opens at 6am and closes at 11am each day and we will be request that your team are on-site by 5:45am latest as this is a team building challenge and it is a better experience if all the team can arrive together. We do not know how many homeless will arrive on any given day. It may be as few as two hundred or as high as three hundred, but we feel that if there is only one person knocking on our door then we should open that door and make them welcome.
If you have an interest in getting people in your organization to work more effectively as a team, would like an icebreaker to integrate new members into your group or would just like to organize a fun day out, then a Whitechapel Mission Team Challenge experience could be just what you are looking for.
A Whitechapel Mission Team Challenge offers an unusual and free alternative to the myriad of outdoor 'corporate training' days now on offer. Your employees will join regular Whitechapel Mission staff - making a real difference for some of London's homeless while working as a team and having fun. We do not charge volunteering groups to get involved with our volunteering program, but many choose to financially support us and our priority corporate supporters will always get preference when it comes to volunteering dates and booking.
5:45am - Briefing
6am
- The first task of the day from 6am will be to prepare breakfast. This requires the preparation and cooking of bacon, sausages, beans, tomatoes, eggs, mushrooms and hash browns, buttering of bread and making of toast. We will also make and serve over 400 cups of tea and 600 cups of coffee. Tea and Coffee is made by the individual cup and upon request. This is a chance for a smiling face to say good morning to our homeless visitors and start their day on a positive.
At 8am, some of the team will begin to serve breakfast, while others continue to cook more breakfasts and others will collect plates, wipe tables and wash up. There will be a rush at 8am for breakfast, which will last for about 20-30 minutes and then continue for approximately the next hour and a half at a steady rate.
Throughout the morning, we will be giving out towels, soap, razors, shampoo and toothbrushes.
At 10am, our kitchens close for the day and we can begin to clean the kitchens down and prepare it for the next day.
By 11am, the daycentre will close and we will begin the big clean-up. The Dinning area will need to be swept and mopped. The toilets will be cleaned and hosed by staff members.
By 11:30, we should be able to finish for the day.
If you are interested in a challenging volunteering experience with the Whitechapel Mission, please contact our office on 03000 111 400 or view our volunteering diary.
Back
Diary