Since the 1870s, The Whitechapel Mission has been serving Londoner's experiencing homelessness, hunger and other crises. Each meal and every service is an invitation to join our community programs that help guests make progress towards individual goals such as regaining sobriety, reconnecting with family and preparing for work and independent living.
Fundraise for our work
Fundraise
The Whitechapel Mission serves homeless and hungry Londoners and provides services that meet their immediate needs and transform their lives from poverty and hopelessness to hope. With help from our supporters, we remain open and serving
Fundraise for our work
Fundraise
A few ideas
Raise
£ 500.00
In the midst of the coronavirus (COVID-19), we remain committed to serve people struggling with homelessness, poverty and other crises — people who need our help now more than ever. YOU can provide nutritious meals and essential programs and services.
Fundraise
Fundraise
Raise
£ 1000.00

Each meal at The Whitechapel Mission costs just us just £0.50 to prepare. YOU can provide 2,000 meals so that our guests can receive much-needed nourishment. And oftentimes, a meal leads to the next steps for life-change.
Fundraise
Fundraise
Raise
£ 5,000.00

Adults enter our programs seeking a path to independent living. YOU can give highly relational and individualized care, with specific, measurable goals for wellness, recovery, employment, housing and more.
Fundraise
Fundraise
Fundraising Pages
Chairty of the year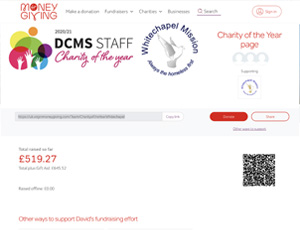 Brookfield Cares London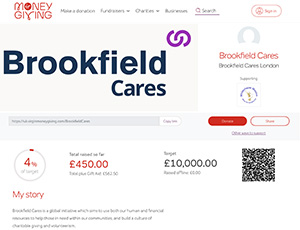 London Marathon 2021
1,924
offered housing advice
278,541
articles of clothing given
100% Donation Policy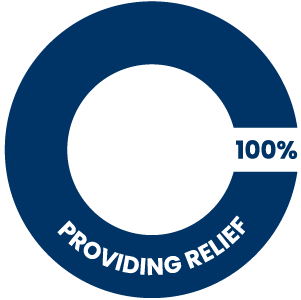 How we use your donations
The Trustees of the Whitechapel Mission are proud to confirm that we operate on a unique 100% donations policy. Every penny of every donation received is used strictly for charitable purposes.
The Trustees understand the importance and responsibility that comes with running a charity and accountability it brings.
All the charity's administrative and fundraising costs are covered by:
Investment income
Income generated from the Whitechapel Mission building. Money raised from rental income