The concept of volunteering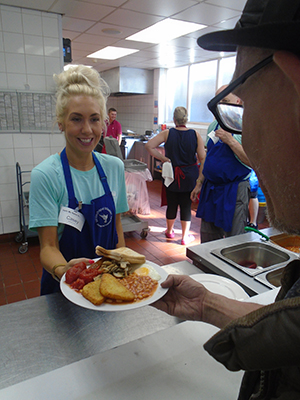 Every day of the year, we welcome the weary faces of men and women facing despair. Many have tried surviving on the streets. Others are encountering homelessness for the first time after losing jobs or facing personal crises. Hundreds of people literally feel that they have nowhere else to turn for help. However, we continue to be inspired by the kindness and resilience we see from everybody involved in our work, from our volunteers and staff to the supporters who make our work possible.
Our goal is to encourage volunteering as a concept, as we all want to make a difference when we see people sleeping in a doorway or struggling with homelessness. And we shouldn't have to pay for the opportunity to volunteer.
We want volunteering at Whitechapel to be fun, rewarding, challenging and free. The skills, opinions and experiences of each volunteer are valued and we want them to be an integral part of our organisation.
A full volunteering diary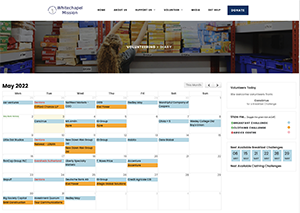 Volunteering at the Whitechapel Mission is very popular. We recognise the difficulty that this can cause when looking for dates. Our breakfast challenge is usually booked 4 months ahead and our clothing challenge can be booked upto 6 months ahead.
We also recognise that it is very difficult to book a date too far into the future, when it is unknown who may be taking annual leave, or the possibilities of workload changing within the office.
In an attempt to give everybody a chance, our diary will not allow bookings more than 4 months into the future, unless you are a Priority Partner.
Priority Partners
We describe a Priority Partner as any organisation/company who have demonstrated long term support for our work.
This may be:
Joining the 5000club - an annual donation of £5,000
Making us Chartity of the Year
Joining our fundraising events
Being ambassadors, promoting our work
5000Club
Membership of this 5000club offers:
Unlimited and priority access to the volunteers diary months ahead of others organisations
Instant acceptance of volunteer dates booked via the website
Acknowledgment in our annual report and website
The use of our name and logo within your publications and reports, as a priority partner with the Mission
A high level of reporting (if required) - showing the dates, times and names of volunteers from your organisation who volunteer
12 month membership
Back