Gift Certificates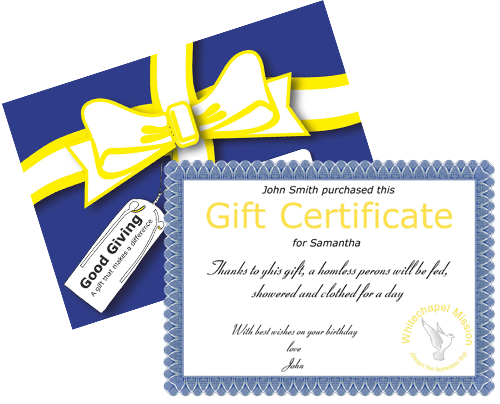 A gift with a difference that makes a real difference.
Looking for the perfect present? Don't know what to buy?
How about a gift that can help change the life of a homeless person?
Whatever your budget and whoever you'd like to buy for, there's a full range for you choose from.
And to recognise your donation we'll send a gift certificate in the name of your friend, relative or loved one for them to open on their special day.
It's really easy:
Choose a gift that your friend or relative will like
Give us a ring or place your order online
We'll send a gift certificate
Your gift will make a difference for those people sleeping rough
we promise that every penny only goes to direct expense
Here are the essential ingredients:
£ 5 - Feed and clothe a homeless person for Christmas day
£ 7 - Buy a blanket to keep someone warm overnight
£ 10 - Buy a sleeping bag to keep someone warm overnight
£ 12 - Give somebody their identity back and start them on their journey to independence by buying a copy of their birth certificate - the first step toward housing and employment
£ 35 - Feed and clothe a homeless person during Christmas week
£100 - Provide a kit of essentials to enable somebody to fit out their first flat
£155 - Feed and clothe a homeless person for a month
£250 - Enable us to run the Lifeskills Centre for the day, equipping our clients with the skills and knowledge they need to be able to find accommodation and secure employment